Thong Nhat Hospital cooperated with Viettel Group to open the Telehealth Consultation Center. Viettel will build a smart hospital solution ecosystem for Thong Nhat Hospital.
Ho Chi Minh City, on April 7, 2021, Thong Nhat Hospital and Viettel Solutions Corporation (Viettel Solutions) announced their cooperation in deploying the Smart Hospital Solution Ecosystem, and at the same time officially put the Center for consultation and remote medical examination and treatment (Telehealth) into operation. The event had the direct participation of Assoc.Prof.Dr. Nguyen Truong Son - Deputy Minister of Health, leader of Thong Nhat Hospital, leader of Viettel Group and directly connected with 22 lower-level hospitals.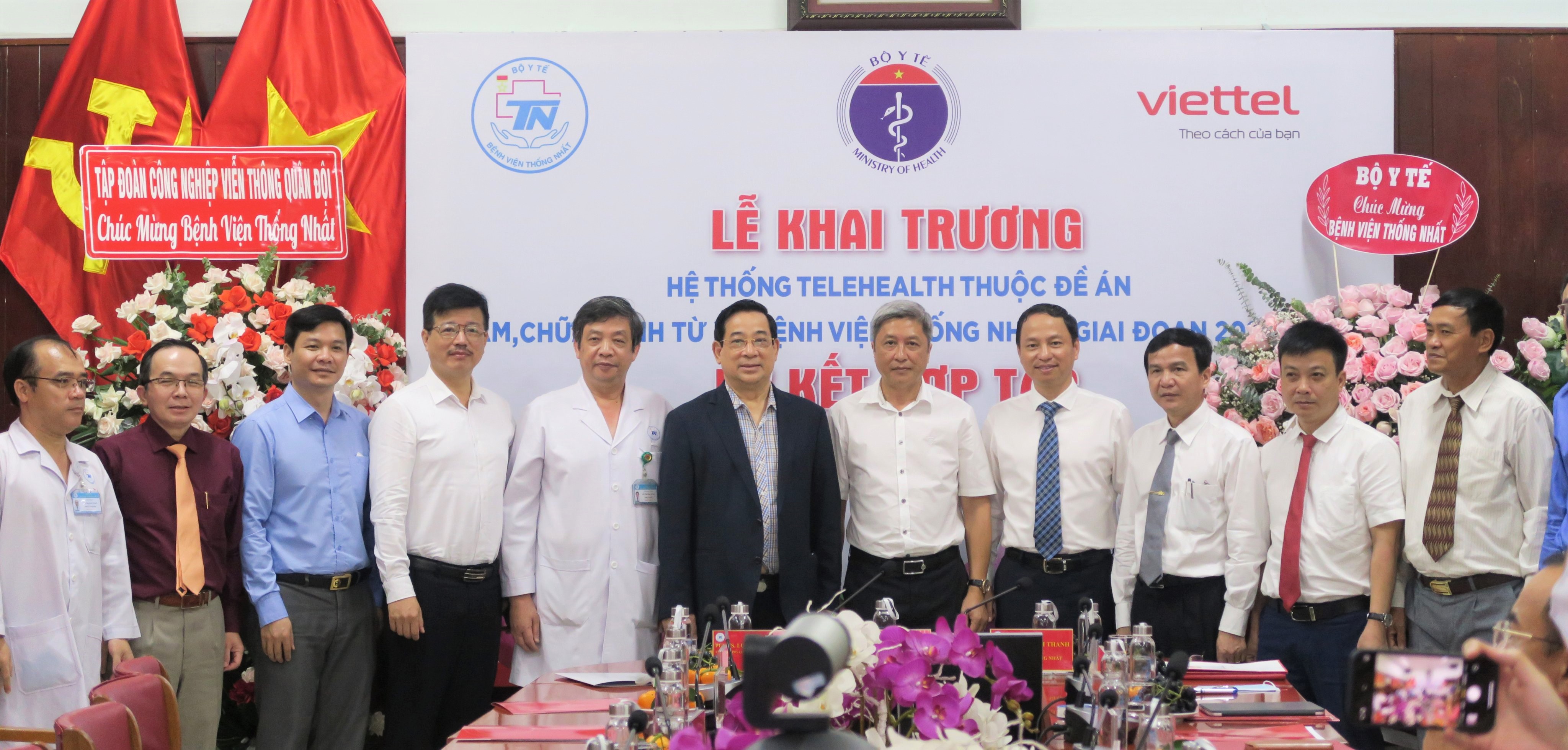 This is also an important milestone, affirming Thong Nhat Hospital's determination in the digital transformation process, towards building a smart, modern and people-centered hospital. Accordingly, Thong Nhat Hospital and Viettel Solutions will cooperate to implement a comprehensive and comprehensive digital transformation consultancy for the hospital with 4 main contents:
Firstly, Viettel Solutions will advise, plan and design a data integration center, network infrastructure, and overall connection infrastructure for the whole hospital, ensuring Information Security.
Secondly, the two sides cooperated in research and implementation of the Smart Hospital Ecosystem including: Hospital Management System (HIS), Laboratory Management System (LIS), Management and Transmission System image (PACS), Electronic Medical Record System (EMR), Online Medical Ordering System, Integrated Axis connecting systems according to HL7 HL7 FHIR connection standards, other management systems (Money management), Payroll, Asset Management, Training Management & Line Direction, Electronic Office), cashless payment system integration towards no film, no paper hospital.
Third, Viettel Solutions will promote research and application of new technologies such as artificial intelligence AI in diagnostic imaging (thoracic X-ray ...), AI Camera application in security control, data analysis Big Data…
In particular, the hospital will expand the Telehealth remote medical examination and treatment consulting system to comprehensively serve medical examination and treatment, training and directing between upper and lower levels and connecting to other hospitals. Viettel Solutions will build and complete an online clinic system that allows connecting doctors of the Hospital with people at home.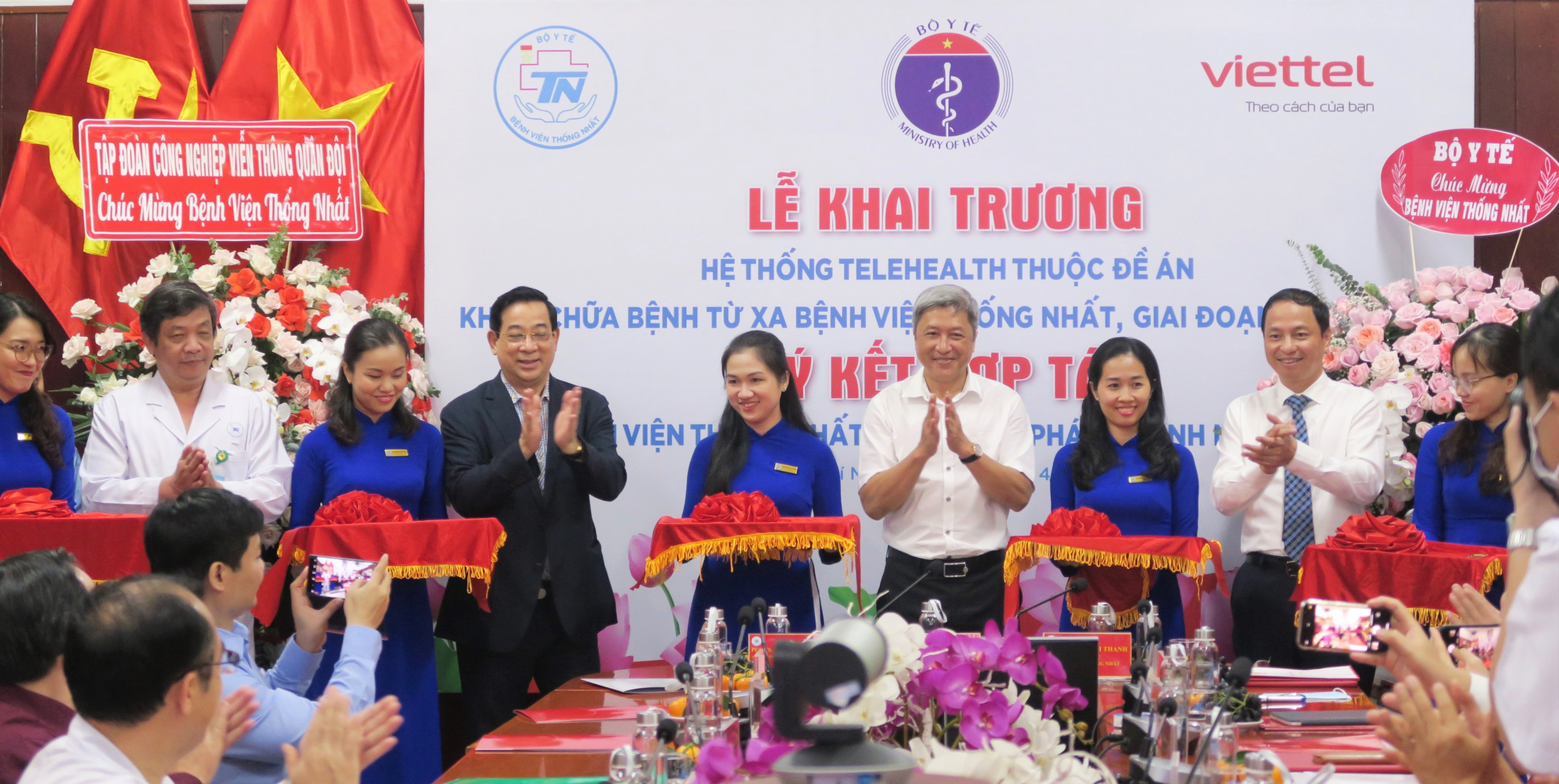 Speaking at the event, the representative of the Ministry of Health Assoc.Prof.Dr. Nguyen Truong Son emphasized: "In the current period, the remote medical examination and treatment system will help patients limit contact with crowds, reduce the risk of cross-infection, reduce overload for upper levels, and provide professional support for patients. Doctors and doctors at the lower level, people in remote areas are still diagnosed by good doctors and experts at the upper level…".
Right at the opening ceremony, Thong Nhat Hospital conducted consultations with several complicated cases being treated at Long Khanh Regional General Hospital, Vinh Long Provincial General Hospital, Provincial General Hospital. Phu Yen and Nguyen Dinh Chieu General Hospital (Ben Tre province).
Nguyen Dinh Chien, Deputy General Director of Military Industry and Telecommunications Group, said: "As a leading technology company in Vietnam, we are committed to investing in the most advanced technology and resources. , building Ecosystem of smart hospital solutions. In particular, the solutions will be "tailored" according to the needs and effectively serve the doctors of Thong Nhat hospital, aiming to improve the quality of people's health care.
The Viettel Telehealth system is a platform owned by Vietnamese engineers and is a component of the Smart Health Ecosystem. The system allows people to directly connect with medical examination and treatment facilities and doctors to take care of their health proactively. Up to now, Viettel has connected to nearly 1,500 hospitals in provinces and cities across the country.
It is known that Thong Nhat Hospital is one of 34 central-level hospitals selected by the Ministry of Health as a nuclear hospital, conducting telemedicine consultations for lower-level hospitals in the Project of Medical Examination and Treatment from far from the period 2020-2025.