On July 18th, 2023, Viettel Business Solutions Corporation (Viettel Solutions) - a member of Viettel Group (Viettel) has signed an agreement with Meta Platforms (Meta), to officially provide A2P messaging service for Meta in Vietnam.
The signing ceremony was attended by Mr Pham Trung Kien – Deputy General Director of Viettel Solutions and Mr. Karan Khara – Managing Director for Global Programs at Meta, along with leaders and representatives from both sides.
According to DataReportal, as of May 2023, Facebook has 2.99 billion users worldwide, remains the largest social network in Vietnam also among the top 10 countries with the highest number of Facebook users in the world (66.2 million users). Additionally, with 2 billion regular users, Instagram is currently the fourth largest social network in the world and is also gaining popularity in Vietnam. Viettel, as the Mobile operator with largest market share in Vietnam, has met Meta's criteria and has been selected as a long-term partner to provide A2P SMS service (Application to Person SMS), which relate to sending messages from applications to users and become a long-term partner providing this service for Meta.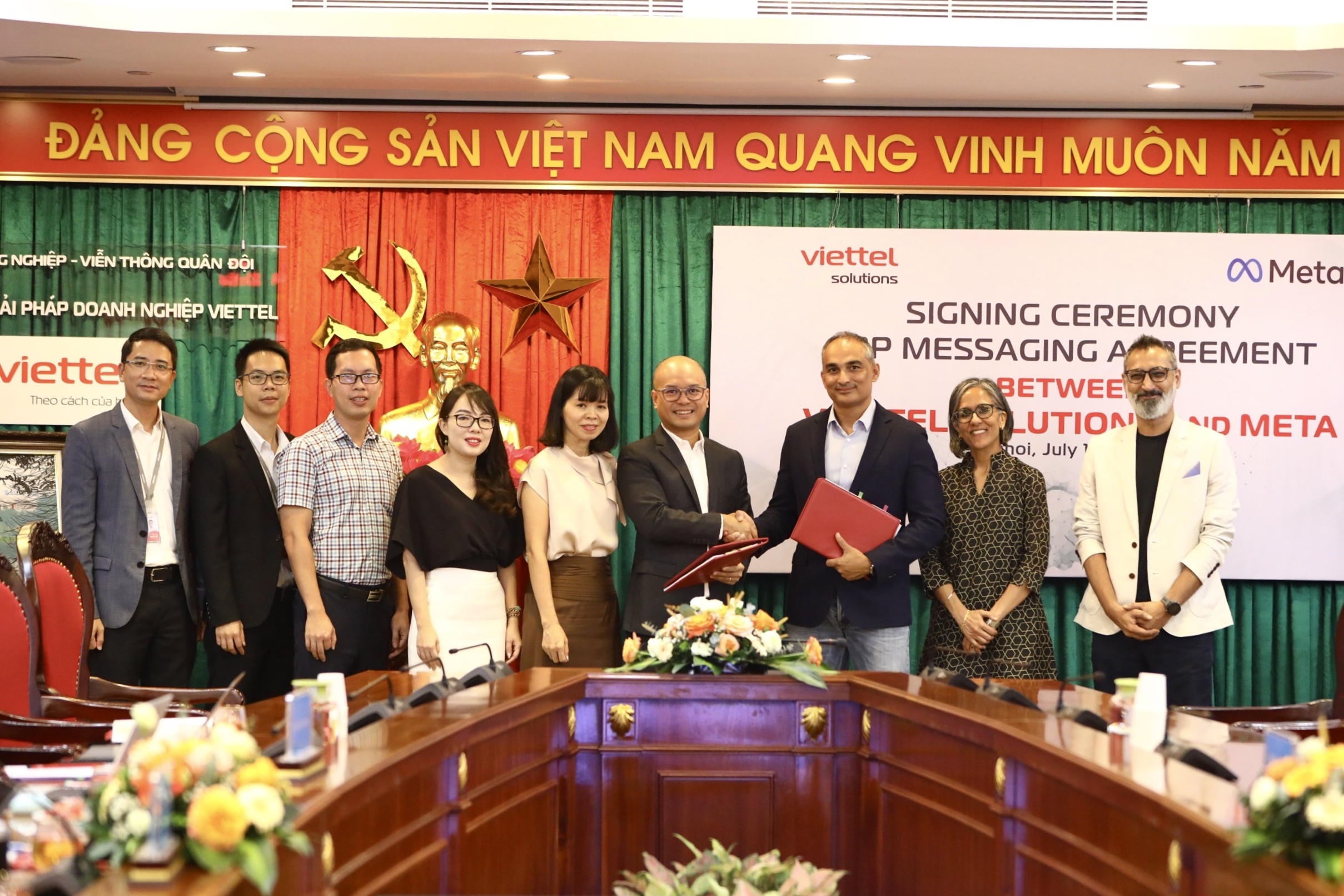 Accordingly, on July 18th, 2023, Viettel Solutions and Meta has signed an agreement for direct connection of A2P SMS services with the aim of improving the interaction channel between users and Meta's social network platform. This direct connection enhances both the quality of service and security for messaging interactions between Meta's social network and Viettel subscribers in Vietnam. With this service, social network users will receive messages from Meta, such as OTP authentication codes in an official, fast, and accurate way with familiar brand names like Facebook, Instagram, Whatsapp, etc. This collaboration also allows both companies to leverage their human resources and technologies to enhance security methods beyond traditional communication methods.
Sharing at the signing ceremony, Mr. Pham Trung Kien, Deputy General Director of Viettel Solutions stated: "This agreement is evidence of our commitment to providing innovative, secure information technology and telecommunications solutions for customers. We believe that this cooperative relationship will be a good start to open up new opportunities for collaboration between both parties."
Mr. Karan Khara, Managing Director for Global Programs at Meta shared: "Our vision is to give people the power to build community and bring the world closer together which also aligns with the values of Viettel. Vietnam is and has always been a very important country for Meta. With a young population and a high adoption of smartphone usage, Vietnam is poised to take the digital economy lead in Southeast Asia. Therefore, I believe that this agreement with Viettel will bring innovation, commitments to the market, as well as many other partnerships in the future."
At the signing ceremony, representatives from Viettel Solutions also expressed their desire to expand the collaboration to 10 markets of Viettel in Asia, African, and Americas.