On July 12th, the conference to summarize the first 6 months of 2023 on national digital transformation and the Government's Program 06 was held at the headquarters of the Government Office and broadcast live to the following demand points: Headquarters of Ministries, Ministerial agencies, and Agencies under the Government; the headquarters of the People's Committees of the provinces and centrally-run cities. The conference was chaired by Prime Minister Pham Minh Chinh, Chairman of the National Digital Transformation Committee.
Within the framework of the event, an exhibition of model applications developed in accordance with Program 06 is on display. As a unit with many years of experience in researching and implementing national digital transformation, the Military Industry and Telecoms Group (Viettel) brought to the exhibition a complete information technology (IT) infrastructure model for provinces and cities associated with the Government digital, digital transformation and smart cities. This product suite is a standard digital transformation model that localities can refer to for application in their area.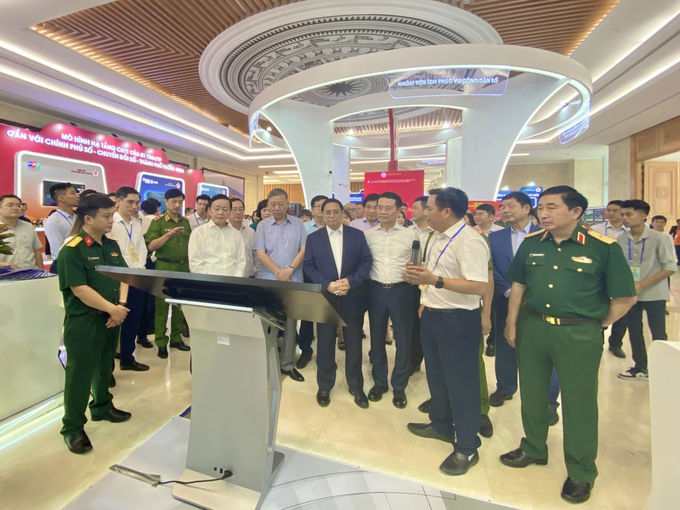 The next highlight is that the model is designed and clearly identified into many layers and many groups of common, typical solutions and applications that localities can refer to, select, and apply to their localities. Specifically, the layers of data collection, network connectivity, computing storage, data and service support, and application layer. Throughout, alongside are information security systems, maintenance operations, construction infrastructure, positioning and identification.
In addition, Viettel also brought nearly 30 models belonging to 5 groups of utilities according to Program 06: Group of utilities serving administrative procedures and online public services; Group of utilities for socio-economic development; Group of utilities serving the digital citizen; Group of utilities to enrich population data and Group of utilities for overall management and direction.
Specifically, in the group of utilities serving administrative procedures and online public services, Viettel participates in implementing 53 essential public services, implementing the application of automated central administrative centers and building public services without using paper documents, along with that is the use of electronic authentication connected to the population database in order to assist in reduce administrative procedures, provide public services more conveniently for citizens and businesses.
In the group of utilities for socio-economic development, Viettel is conducting research and applying QR codes on ID cards and VNeID in applications for medical care, payment with chip-embedded ID cards, and digital financial services. This helps to enhance security and convenience in daily transactions.
In the group of utilities serving the digital citizen, Viettel will deploy the integration of school management systems, online learning (K12Online), electronic health records, and social security program management systems on VNeID. This helps to improve the quality and convenience for citizens when using education, health care platforms and create favorable conditions for citizens to access social services.
In the group of utilities to enrich population data, Viettel builds solutions to unify national databases, integrate with the population database and VNeID, which helps to create an accurate, reliable and effective information system, thereby contributing to enriching the data on citizens.
In the group of utilities for overall management and direction, Viettel deploys the intelligent operation center IOC to help leaders at all levels make decisions based on data and figures in real time, reducing the time for statistics and reporting. The intelligent operation center plays the role of a brain that synthesizes, commands, and operates all activities of the city through data collection and standardization. At the same time, applying data analysis and processing platforms (VIettel DMP) to analyze, provide reports and alerts to support leaders in making decisions and commanding city activities.
With the message "Technology from the heart", Viettel commits to partnering with the government, businesses and localities, joining forces with Program 06 of the Ministry of Public Security, resolutely implementing and applying the most advanced and modern technologies owned by Vietnamese people to enrich the data on citizens, bringing efficiency to organizations, satisfaction to the people.