On June 23rd, 2022, Viettel Solutions, a member of Viettel Group, and CEO Group signed a comprehensive digital transformation partnership agreement at the CEO Group headquarters. The signing ceremony was witnessed by Mr. Doan Van Minh - CEO of CEO Group. At the ceremony, Mr. Pham Trung Kien - Deputy General Director of Viettel Solutions, and Mr. Tran Dao Duc - Deputy General Director of CEO Group, signed a digital transformation consulting contract on behalf of the two parties.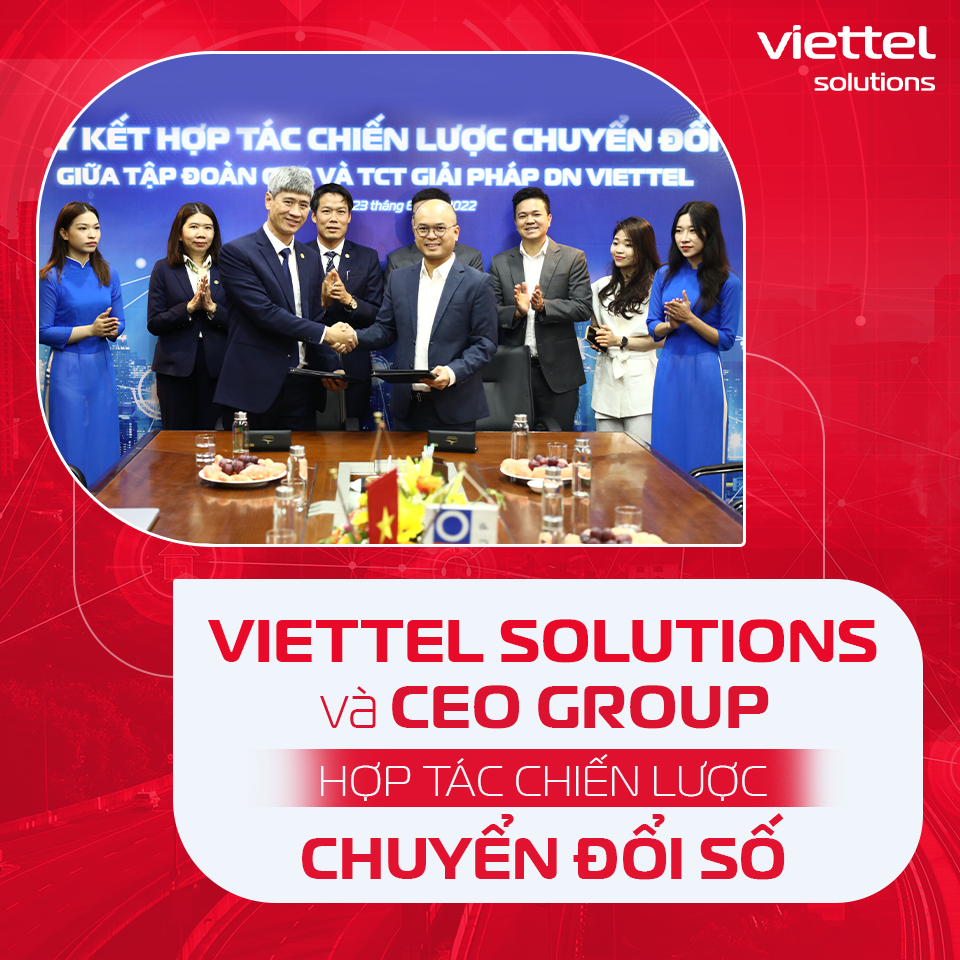 In this project, Viettel Solutions will partner with CEO Group to assess digital maturity and advise on a digital transformation strategy. Viettel Solutions' team of experts will conduct a comprehensive assessment of the company's current digital transformation landscape, from which they will develop a specific and detailed strategy and roadmap for digital transformation over the next 5 years.
At the event, Mr. Pham Trung Kien affirmed that digital transformation is an inevitable trend for organizations, especially in the period of technological explosion after the COVID-19 pandemic. CEO Group's proactive approach shows the spirit and determination of the highest leaders as well as all employees of the Group, which is one of the prerequisites for successful digital transformation. With the mission of being a leading force in creating a digital society, Viettel Solutions will partner with and promote CEO Group's journey to become the number one technology company in the real estate industry.
On the side of CEO Group, the representative of the leadership shared their confidence in choosing a pioneer in the field of technology in Vietnam, with experience in implementing for many large-scale enterprises and possessing many capabilities in infrastructure, technology, and high-quality human resources. This will help CEO Group achieve many achievements in the future. At the end of the signing ceremony, Mr. Doan Van Minh - CEO of CEO Group, thanked Viettel Solutions and hoped that this project would be a successful beginning step, opening up opportunities for long-term cooperation between the two parties.
About Viettel Solutions' Digital Transformation Consulting Services
Based on the experience of implementing for many units in Vietnam and the capabilities of a team of experts in various fields, Viettel Solutions was and is providing digital transformation consulting services, including activities from assessing the level of digital maturity to building a comprehensive digital transformation strategy.
The digital maturity assessment is built on 6 main pillars: Customer, Strategy, Technology, Operations, Data, and Digital Culture and Skills. Since 2018, Viettel Military Industry and Telecoms Group has implemented digital maturity assessments for all its member units. With these experiences, the digital transformation consulting service is completed based on the experience of both internal and external customers, thereby improving the evaluation criteria, survey content, and methods for identifying organizational problems.
In digital transformation consulting, Viettel Solutions is also proud to have researched and developed its own Viettel Agile methodology. The Viettel Agile methodology is built on 3 factors: The nature of digital transformation - which is agility and flexibility, Viettel's core values - which is the spirit of rapid adaptation is a competitive advantage, and Viettel's mission - which is the role of a leader, pioneer, and main force in creating a digital society. The application of this methodology ensures the comprehensiveness of the consultation but still has flexibility and personalization for each type of organization, identifies the optimal solutions with a transparent roadmap, and solves the question of where to start digital transformation? How to start digital transformation?