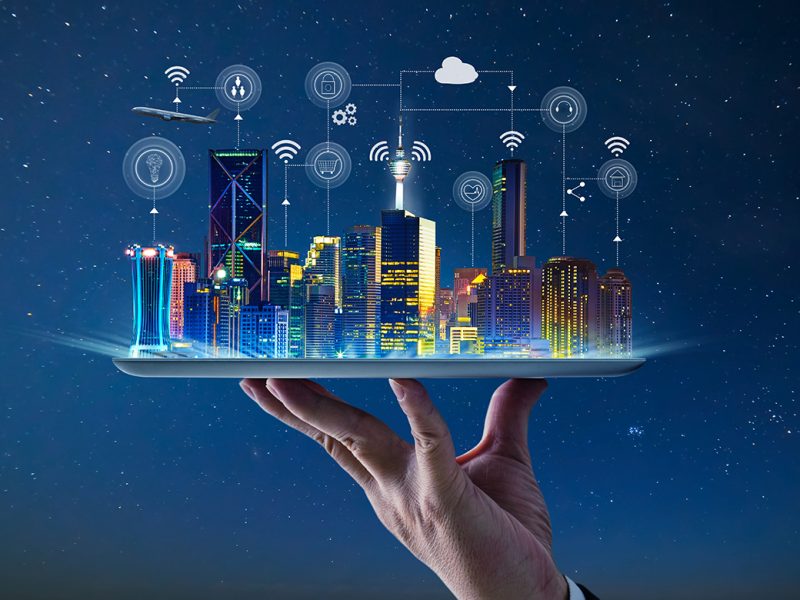 Introduction of Intelligent Operation Center
I.OVERVIEW
Sustainable and smart city development is the objective of multiple countries in the world, including Vietnam. In Vietnam, there are around 20 provinces/cities that have been executing smart city projects.
Meanwhile, the cities are facing a lot of challenges such as the city's infrastructure not meeting development needs, incredibly fast increase in the number of means of transport. In the inner city, roads are becoming overloaded, public traffic systems are ineffective and resources to develop facilities, socio-economy, high technology are inadequate, etc.
In order to deal with the issues above, Viettel proposes the construction of Intelligent Operation Center as a general brain that controls and operates the entire activities of the city via data collection and standardization. At the same time, the Center will analyze, process and provide reports, decisions and direct the city's activities, effectively serve the chief officers, agencies and units.
The Intelligent Operations Center is a workplace focusing on the supervision and administration of areas that directly affect the city's activities such as: Transportation, Public security, Emergency Response, Rescue, Power Supply, Urban Lighting, Water Supply, Weather, Environment ... of the state management agencies, public service businesses of the city.
Intelligent Operations Center is an important area in 15 areas of Smart City:
II.BUSINESS VALUE
Intelligent Operations Center can connect all peripheral devices, provide data, handle emergency incidents and centralize operations according to information gathering, information processing, and situation forecasting and action implementation quickly.
Intelligent Operations Center will be an important headquarter for the Leaders to supervise, direct and manage the activities of the City.
Intelligent Operations Center helps the economy develop, the living and working environment of the people is better, towards a Intelligent and sustainable city.
III. FUNCTIONAL CENTERS OF INTELLIGENT OPERATION CENTER
1. TRAFFIC SUPERVISION AND MONITORING CENTER
It is headquarter to manage system of intelligent traffic systems, Intelligent camera applications and GPS navigation help analyzing traffic flow and sending information to the operating center. The center also integrates the traffic light control system, the system of monitoring and sanctioning traffic violations and providing traffic management indicators such as accidents, traffic jams, etc. At the same time, the application system provides providing information on vehicle density to assist people to select suitable routes for transportation.
2. PUBLIC SECURITY SUPERVISION AND MONITORING CENTER 
It is headquarter to integrate all City cameras. Intelligent image processing through identification algorithm helps find suspicious objects, detect and automatically alert law violations such as: Gathering crowds, demonstrating, fighting and invading enter prohibited areas...
The center performs public security control in key areas of the city... to ensure the security of urban order and environmental sanitation.
3. EMERGENCY RESPONSE CENTER
Integrating emergency rescue services for people into a single extension: 112 instead of 113, 114, and 115, similar to the 911 service in US.
The center provides advanced features such as: Locating the subscriber, displaying on a digital map, controlling the camera focusing on the problem area to quickly capture information of the scene of the incident, interact with coordinate and supervise forces to handle situations such as emergency, fire prevention...
Collecting data from different sources on a centralized database system such as: Specialized applications; Central systems and Data imported directly from individual data files.
Clearing, standardizing, building Data Smart, Data Models for industries, fields and synthesizing statistical reports, chart reports, in-depth analysis reports to support the decision of the City. Publishing and providing socio-economic information to agencies, organizations and individuals in accordance with the law.
5. INFORMATION SAFETY SECURITY MONITORING CENTER
Viettel provides a general solution including 3 elements: The cyber security solution is self-researched and produced by Viettel, organizing a closed-loop security process and a team of Cyber security experts operating, supervise supporting and responsing 24/7 troubleshooting for all city IT systems.
From there, making security analysis for: Network system, server, Email system, user's computer and application. Since then offering solutions to protect and prevent attacking information safety security most effectively.
6. GENERAL QUESTIONS AND ANSWERS SERVING THE PEOPLE
Acting as an online communication channel with citizens and visitors. This is a place where all the requirements and answers to people's questions about the city's socio-economy are summarized through communication channels such as support switchboards, mobile phones, social networks, etc.
Artificial intelligence application combines callbot, chatbot features etc. to automatically answer the questions about all issues of the city. Calls requiring in-depth answers can be forwarded to experts from the Departments. From there, supporting the Departments / agencies to monitor, manage and actively manage the activities of receiving and processing people's petitions.
7. PRESS AND MEDIA INFORMATION MONITORING CENTER
The focal point to monitor all information on cyberspace about the city is: 1 million Vietnamese websites, more than 40 million Facebook accounts, more than 150,000 Groups or Fanpages and all YouTube channels. Since then, proactively detecting information crises for the city, its subordinate units and city leaders.
Application of algorithms such as natural language processing to assess the nuance of articles classified by level: Positive and negative.
Also communicate / alert information to the press agencies and the entire City population upon request.
8. PUBLIC SERVICE MONITORING CENTER
Supervising and monitoring activities of public services such as: supply clean water; collection and disposal of waste; drainage and wastewater treatment, anti-localized flooding; light the city…
Measurement of satisfaction of people and organization. Since then assessing the quality of service and making decisions in providing service, improving the lives of people..
Register Product